Comic strip celebrating parenthood and the innocence of childhood born out of bond between father and son
on
December 31, 2016
at
3:27 pm
Some comics find their spark from the funny things kids say.  Some are born from the creator's love for drawing.  Some are meant as humorous ways to provide current event commentary.
But how many are born out of a father's devotion to finding unique, creative ways to express the love between a parent and child?
Probably not many. And that's what makes the birth story of online comic "Mister & Me" so special.
Sketching the baby
Creator Jason Platt grew up on the playground as "that kid who could draw," a skill he later tapped into for a career.  But it wasn't just his workplace that benefitted; the first-time dad also found a way to capture the early moments of his young son's life using his artistic expression.
He recounts the Christmas when he received a moleskin sketch book in which he began sketching moments of his young baby's life.  The collection of sketches served as a unique baby book, or activity diary to hear Platt describe it, chronicling everyday moments of the child's activities.  However, when his son became a toddler, the drawings became more and more infrequent.
"Babies just lie there; toddlers start moving around more, which makes a still sketch very hard," Platt says with a laugh. "They don't stay in one spot for long!"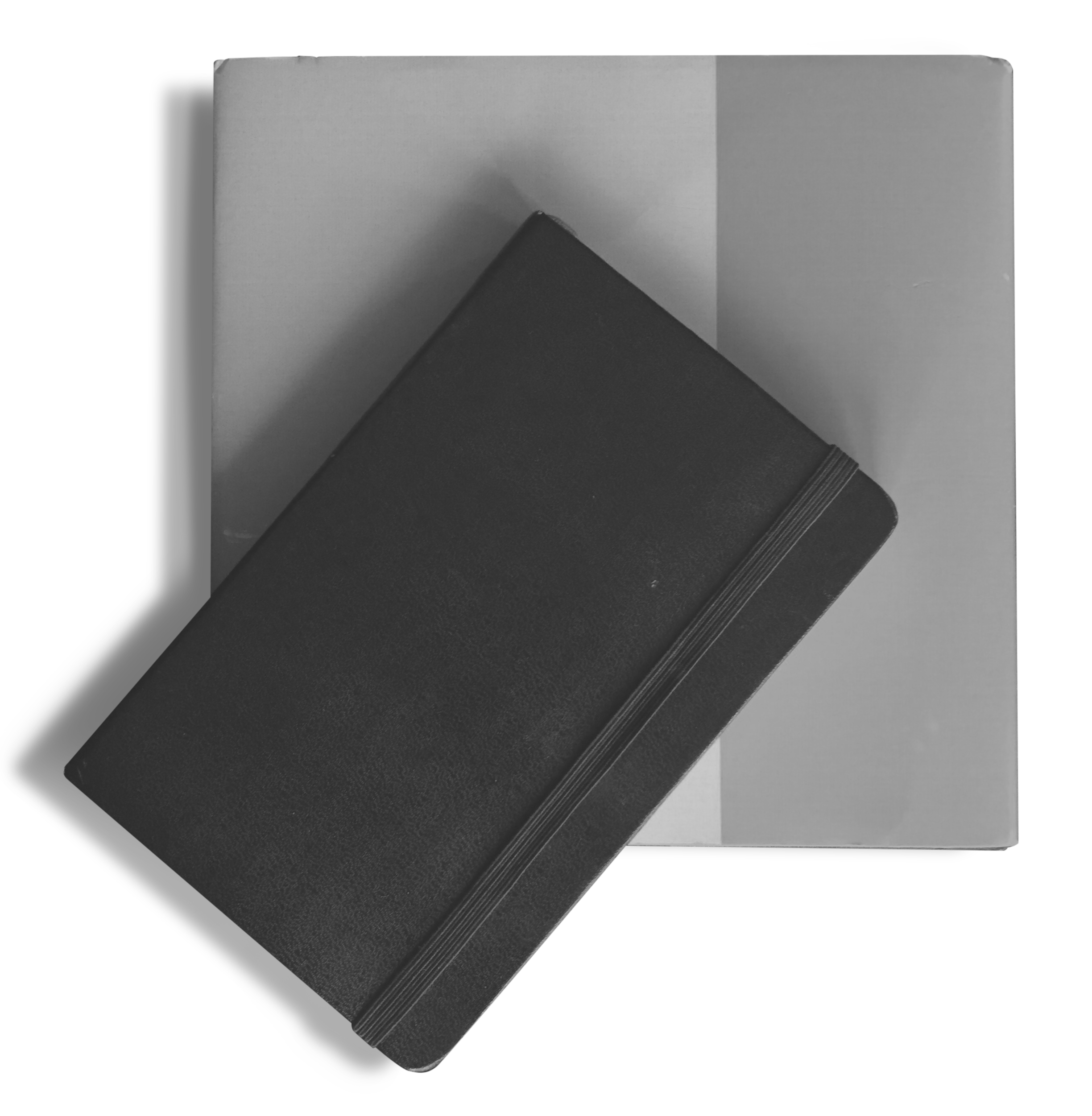 Although his son outgrew the sketch book with his daily motion, Platt continued to find unique ways to creatively express their bond.  When his son was two, Platt worked on a book of poems – some personal, some whimsical, all age-appropriate – that he later designed, printed, and bound as a gift for his son's third birthday.  
With each passing year and phase of his son's life, Platt began thinking ahead to the next commemorative project, even if he didn't immediately know what the next step would be.
"I always wanted it to be something tangible that he could hold or read, like the poetry book, but what? That was always the big question."
A hidden passion for pigeons
A lucky work assignment would soon help him find his answer.
At the time Platt worked as a designer for a local educational products publisher, who had asked him to illustrate an ad featuring cartoon pigeons.  While Platt had never worked in the realm of cartooning previously, he happily took on the creative challenge.  
Even though he had studied illustration at the Savannah College of Art & Design, none of his formal coursework included cartooning; as Platt readily admits, he preferred to focus on "more realistic art" than on what cartooning offered.
Or so he thought.
Breaking down a wall
"Working on the pigeons was so very freeing to me as an artist," Platt recalls, his eyes lighting up at the memory. "And all of a sudden I had this moment where it was like I had broken down a wall to find this hidden treasure behind it.  The treasure was my love for the whimsical,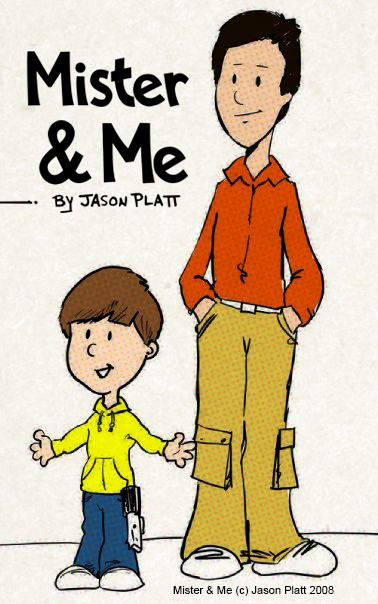 humorous art form.  Here I was trying to succeed at a different style that the Universe didn't want me to move toward!"
Not only did he discover his true passion, Platt also found his next idea for his son's project: a comic of some sort.  But first he had to find a subject.  He remembered advice from a writer friend who had penned a short story for his own daughter as a memento of their relationship, and a light bulb went off.
"What if the comic was about the two of us – a son and his single dad?  It could be a record of our adventures. I was really excited to get to work because once I discovered that passion, that treasure behind the wall if you will, you're really excited to see the full extent of what it could be."
Characters coming to life
Platt started doodling the characters on January 1, 2008, and landed on an initial sketch.  The comic's name, "Mister & Me," fell into place too, since "Mister" was a pet nickname he called his son, and "Me" would naturally be his moniker as the comic would be initially drawn from his perspective.  
But then came the hard part.
"I didn't know how the characters were going to look.  I was trying to come up with something funny, but it just wasn't coming," Platt says.  "Pretty soon I realized that I just needed to get something down … take that first step and just work through it … because if I didn't, there wouldn't be a second one."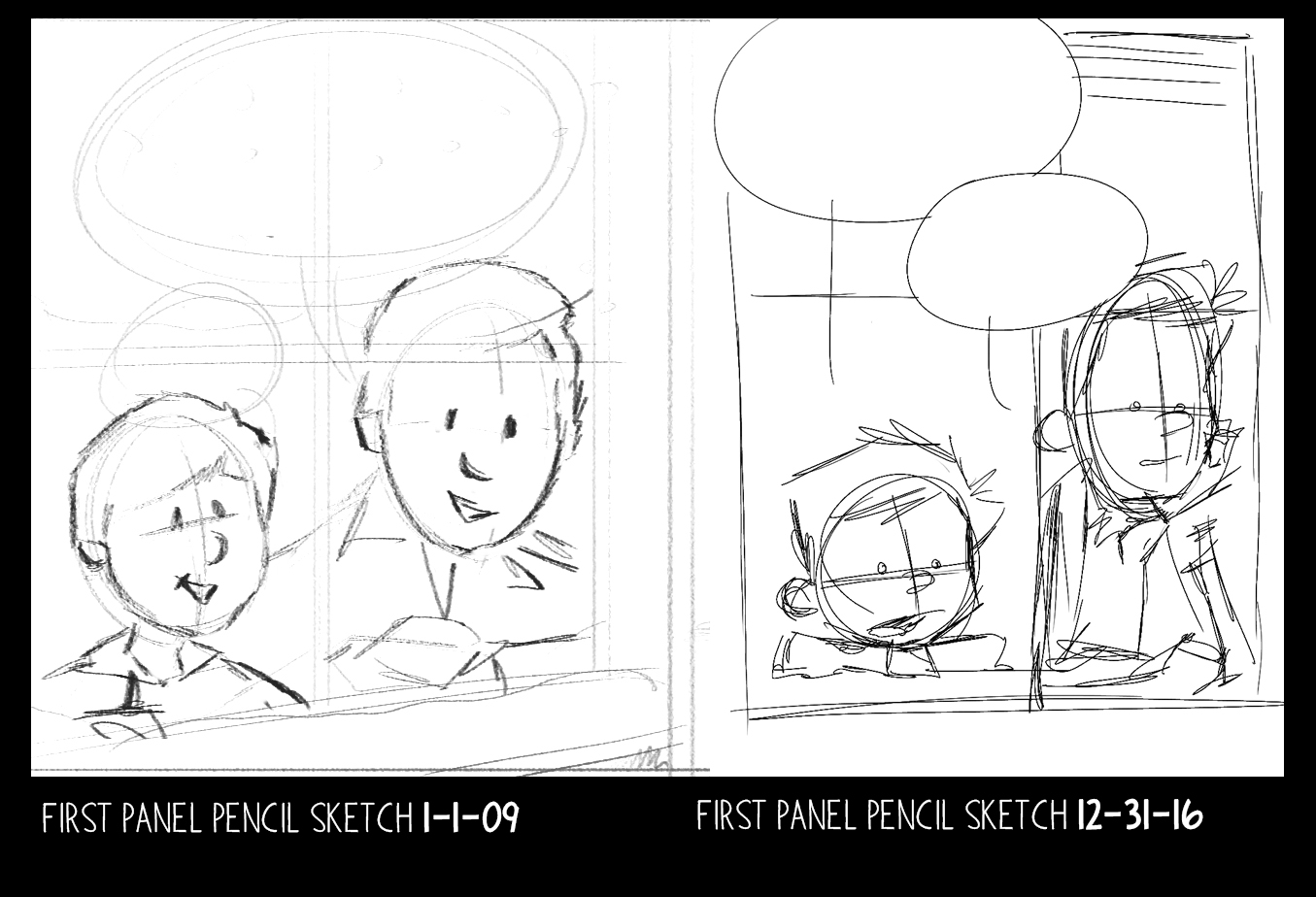 And then his memento for his son would stay a dream instead of becoming reality. So he got to work writing and drawing.  
Initially Platt intended to keep the comics between him and his son, perhaps as another bound book like the book of poetry.  He soon realized though that the comic needed more eyes to fully hit its stride.  
"It's like when you're performing a show," explains Platt, who also has theatrical talents on his list of artistic accomplishments. "There needs to be an audience to close those gaps and to pull seams together to really give you an idea of what the show is."
Like open mic night
To gain that audience, Platt began posting the comics on his personal Facebook page, which he describes as similar to going on-stage during open mic night … "You don't know if people will like it or if you will be humiliated. You hope it's the former, but there are no guarantees."
The reaction was positive, with friends posting supportive commentary.  They encouraged Platt to submit the comic to newspapers, but he knew it wasn't ready at that stage yet. Instead he continued to post it online, eventually developing its own website (www.mister-and-me.com) from which he links to other social media.  The storyline evolved as well.
"Originally it was just things that would happen to my son and me, sort of like a diary of growing up, but I soon realized with more eyes on it that I needed to separate it from our real lives," says Platt.  "It still has enough inside jokes so he recognizes and enjoys it, but it's not a complete window into our personal lives."
A comic's evolution
Even today Platt doesn't think the initial strip is all that funny, and the artwork is "just OK," according to him.  Yet, he knew it would grow from its starting point, which is why it was so important to simply get it down on paper.
"It's like the hidden treasure analogy again. When you first knock down the wall to get to the treasure, of course there are going to be cobwebs and dust.  And you're going to have to get a little dirty to get to that treasure.  That's what it was like developing the cartoon; I knew I was going to have to work through the process and get a little dirty in order to get it to where I wanted it to be."
Eight years later the characters' looks also have evolved gradually from their initial days.  Platt realizes that he could theoretically go back and make all of his earlier strips tighter and cleaner, but he doesn't …  simply so he can show other young artists his own stumbles.
"I think it's really important for people to see the progression because it shows that you have to start somewhere.  You can't just jump to the end point," explains Platt.
"For example, look back at the first strips of ("Peanuts" creator) Charles M. Schulz and ("Garfield" creator) Jim Davis. There's a big difference between their earlier and later stuff. In ("Mother Goose & Grimm" creator) Mike Peters' early work, you see him growing.  To see an artist grow with their characters is so cool.  It shows that the only way to get to this level of talent is to continually work at it.  If you don't, you're never going to get there."
Newell's next adventure
Even though the Newell has remained perpetually five years old in the online strip, Platt is currently developing a book for middle-grade students where the younger characters have grown taller and spend more time with their own friends.
"I honestly didn't think I would still be doing this after eight years.  In fact, I often wondered what my next endeavor in this journey would be," reflects Platt.  "But the character is going along with him.  Even though Newell remains the same age in the online strip, the middle grade book is honoring who he is becoming, not just physically, but also from an independence perspective in relation to his dad.  While the dad is still part of the story, it is clearly becoming more of Newell's adventure, which parallels the progression of the relationship between a parent and child as the child grows up."
The reaction
Even today, Platt feels most flattered when a storyline strikes a chord with a parent.
"It's always nice to get compliments on my drawing style from other artists, but it's really special to me whenever I get a note from a reader who says, 'that really reminded me of what my dad always used to tell me,' or 'my daughter and I do exactly what Newell and his dad do in a snowball fight.'  If I can entertain someone with my drawings, that's great.  But if I can touch them as a parent or child, that's even better."
And what of the main inspiration's reaction? Platt's son, now 13, still wants to read the comic when a new one is published online, and he keeps the original treasury of strips personally selected by his dad on a bookshelf in his room. He also gets a sneak peek into the book's storyline as major plot points are developed.
"When I first created it, he thought it was funny. He liked it at the time as a five-year-old would.  But the longer-term impact is what truly makes it special."
Platt pauses with a slight catch.
"Hearing him laugh is what makes it all worthwhile."
___________
Follow Mister & Me online at:
Web: www.mister-and-me.com
Facebook: www.facebook.com/MrandMe/
Twitter: @mrandmecomic
Instagram: @mrandmecomic
Become an arts patron: www.patreon.com/jasonplatt